Mark the best answer to this question and earn +2 reputation points
Did you miss God at some point? (GC 29)
I have heard many people say that God has abandoned them, because a family member dies, they lose their jobs, and on the contrary if they are abundant they do not remember to thank God for life and everything they have. If you are one of these people I will tell you my favorite phrase: I will be with you every day, until the end of the world (Mt 28,16-20)
If you feel that God has lacked you?
Remember that he is with you every day and will always accompany you.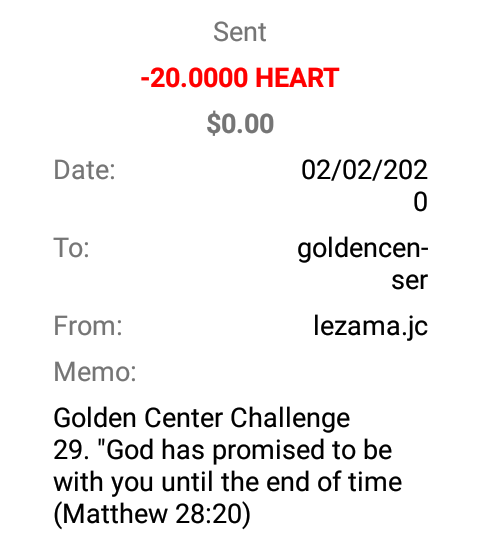 Answers
5
.
God is with us we can feel alone but never abandoned, in moments I have felt that God is gone, or when he is silent and that sensation has been the worst of my life, I have called it the dark night of my soul.
God is forever with us, God is forever faithful!!
For in him we live, and move, and have our being; as certain also of your own poets have said, For we are also his offspring. Forasmuch then as we are the offspring of God, we ought not to think that the Godhead is like unto gold, or silver, or stone, graven by art and man's device. Acts 17:28-29 (KJV)
---
God is not solver or gold that we miss at times!!!
Max
My mother taught me that God is with us in good times and bad. I talk to him and I feel in a magical way that he accompanies.
No, God is faithful to me and my children.
Some mornings I wake up and I feel down. I feel a heavy weight upon me, and I wonder how I can feel that way. Sure, there are always some silly, worldly reasons for my hurt feelings and that God has forgotten me! But i should be able to rise above it. The fact that I'm a believer in Christ afford me some sort of guarantee against bad feelings?!
In times of trouble His Holy Spirit speaks best through His Word.
Psalm 94:18-19

Romans 5:8
"But God showed his great love for us by sending Christ to die for us while we were still sinners"
Sometimes we're not where we need to be in our relationship with the Lord, and we assume that because of our mistakes and faults that He can't work with that. We mistaken His silence for absence, when in all reality He just wants us to hear His voice more clearly.
It's not by works that we are saved. God doesn't love us more for being better. He just loves us. He loves us enough to die for. Nothing can change that and Hewill never forget us!