Mark the best answer to this question and earn +2 reputation points
MY GOLDEN CENSER CHALLENGE #27 QUESTION: Is it fair God?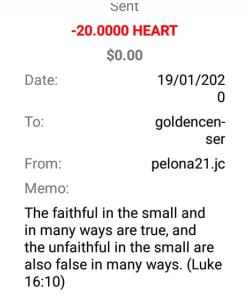 Justice means that everyone gets exactly what they deserve. According to many people, justice is when everyone is treated equally.
Is it fair God?
We have all sinned against God (Romans 3:23), and therefore we are worthy of eternal death (Romans 6:23). If we received what we deserved, we would end up in a lake of fire (Revelation 20: 14-15).
God is not fair; instead, he is merciful and kind, so he sent Jesus Christ to die on the cross in our place, taking the punishment we deserve (2 Corinthians 5:21).
Where is your Golden Censer quote and transaction Rosmy? To enter the Golden Censer Challenge you must first send a HEART to Golden Censer, then discuss the topic it replies with. SK.
Answers
1
God is the creator of justice, as there was not one righteous on earth, Jesus had to come in a living sacrifice to die for us, his justice is perfect and by his blood we are justified.